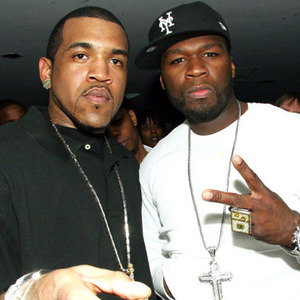 While speaking to MTV News from the set of Tony Yayo's Haters video, the G-Unit General shot down rumours that one of his main Capo's, Lloyd Banks, would be moving to Def Jam.
After G-Unit members Lloyd Banks and Tony Yayo both parted from Interscope and hooked up with EMI/G-Unit Records; rumours began to swirl about their top lyricist making a move and following the former G-Unit president, Sha Money XL, now Senior Vice President of A&R at Def Jam. But Fif quickly dispersed that notion on the basis of the labels supposed financial issues, saying ;
"Well, Def Jam, I'm not even sure what that system — that system is not in a good space right now. They're like $80 million in the hole, Don't tell them I told you."
Fiddy explained that the signing of his former artists over to the EMI deal was to set them up as solo artists who could work independently without his help. 50 cited Banks'  2010 studio release The Hunger For More 2 as the project that set the trend.
"Banks' project is the beginning of them flying solo, flying without my assistance so much."
In the past, 50 has always appeared on his artists albums, and he also featured on both Banks and Yayo's first singles, On Fire and So Seductive.  He explained that this was to help draw attention and publicity;
"Like on all their other albums and singles, I was featured on their projects to help bring attention to it and get 'em off into the right space. This go-around is, like, for them to go away from me and do it on their own. They're setting up shop on their own on this project."
50 cent and G-Unit are to perform at The Waterford Music Fest on Saturday 30th July.