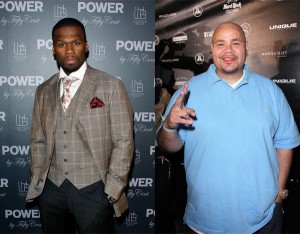 It was all happening at the 2012 BET Hip-Hop Awards last night. As we reported earlier, problems escalated between Rick Ross and Young Jeezy, while elsewhere it appeared that 50 Cent and Fat Joe put their differences behind them, as a tribute to the loss of their mutual friend Chris Lighty.
It would appear that 50 and Joe, who have had problems as far back as 2005, shook hands during the ceremony, with 50 Cent later taking to Twitter to say that Lighty would have loved to see them at peace and that the door may be open for future collaborations.
Thanks Chris would have wanted joe thereRT @noupsdream: @50cent yo man, good job. u feed people n now u make peace. Salute!!!

— 50cent (@50cent) September 30, 2012
Ill check it outRT @ar_knight: Now that @50cent & fatjoe squashed things a dope collabo would be nice….

— 50cent (@50cent) September 30, 2012
If the beef is indeed squashed, it would signify the end of a rivalry that has gone on since at least 2005, when both rappers released diss tracks against the other.