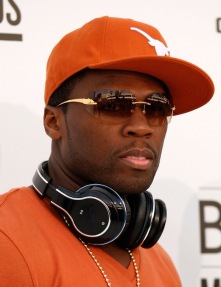 If there is one rapper who knows how to promote, it's 50 Cent. His new focus is SMS by 50, the rapper's new brand of headphones.
Going up against mentor Dr' Dre's Beats By Dre headphone line, these premium priced cans look the business! The line comes with several models, each at different price points including the flagship product "SYNC by 50″, which are completely wireless.
50 wants you to listen to his music in style, starting with "Stop Crying", the new track from his forth coming mixtape "The Big 10″.
"The Big 10″ commemorates 10 years since the release of 50′s mega mixtape "50 Cent Is The Future" back in 2002. The Queens entrepreneur is reportedly going to shoot videos for all 10 tracks as online promtional material.
"The Big 10″ drops next week.
SMS by 50 are available to pre-order now at smsby50.com
50 Cent proves that his headphones are tougher than the competition's, something Beats By Dre fans have been plagued with.