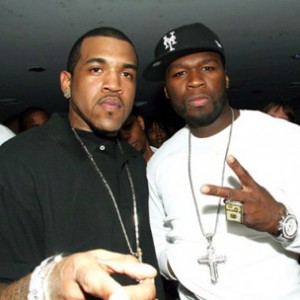 50 Cent has been busy doing his media rounds over the last few weeks, and it was on  Power 106's Big Boy's 'Neighborhood', that the Queens rapper turned his bullets on his own crew members, Lloyd Banks and Tony Yayo, claiming they need to step up to the plate.
Fiddy had previously claimed that he hadn't talked to Lloyd Banks in months and now it appears that 50 is sick and tired of the lack of effort on the parts of Banks and Yayo to handle their own business.
"It's interesting. Growing up people have habits they refuse to change…I've enabled them to a point that they don't feel like they have to do anything," 50 Cent explained. "Now they have this thing where their way of dealing with something that's uncomfortable is just not dealing with it. I end up doing their job too."
According to 50 Cent, he has essentially been operating as manager for both Banks and Yayo, but has now found himself entirely fed up with the situation.
"The top of last year I'm saying 'Yo, you gotta find managers.' They gotta find other people to do that cause I gotta focus on other things and other projects I got going," said 50 Cent. "I'm on a movie set, what you wanna call me and say 'Yo, I need to go do this?' Set a show up? Like the guy's calling me about your show while I'm on a movie set?"
Although 50 Cent explained that this is not the end of G-Unit, he did insist that Lloyd Banks and Tony Yayo have a lot of stepping up to do if the crew is to continue.
"I don't think it's actually over," said the rapper. "I think they have to get themselves together. You got grown men that will remind you, 'I'm a grown ass man,' and then don't do grown men things and take grown man responsibilities for themselves."