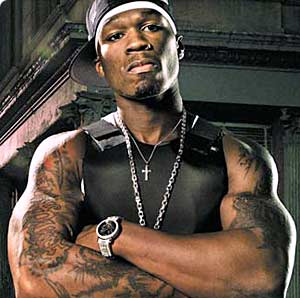 50 Cent, the rapper who is well renowned for picking beefs with big names in HipHop, has revealed that he is releasing a book about bullying. The Wall Street Journal reports that 50 will publish his third book in 2012 after 'The Penguin Young Reader Group' agreed to publish the G-Unit leader's semi-autobiographical novel, 'Playground'.
The novel will be targeted towards young adults, and it will feature elements from 50 Cent's violent childhood. According to a statement from the publisher, the book is due for release in January 2012 and will tell the story of a 13-year-old schoolyard bully "who finds redemption as he faces what he's done."
"I had a strong desire to write 'Playground' because I wanted to explore how a kid becomes a bully. I drew on events from my own childhood and adolescence, but was excited to see the story take on its own life. This book would have been very helpful for me growing up and now that I have a teenage son, it is my goal that this will have a positive influence on all teenagers." 50 said in a statement.
50′s latest book will follow his best-selling 2005 printed debut, "From Pieces to Weight," an autobiography that told his gritty tale of rising from street-level drug dealing to multi-platinum super-stardom. In 2009, he also co-wrote a book with best selling "The 48 Laws of Power" author Robert Greene. Their self-help manual entitled  "The 50th Law" debuted on the New York Times Bestseller list.
Ironically, 50 has a reputation for starting beef with other rappers, including Ja Rule, Game, Shyne, Fat Joe, and Cam'ron- and at times he even resorted to bully-type tactics to get his point across. In 2009, he went after DJ Khaled by making a video in which he appeared to secretly film the producer's mother. This incident occurred at the same time that 50 was feuding with Rick Ross. During the Ross beef, 50 threatened to release a book by the mother of Ross' son and posted pictures of himself with a woman who was involved in a paternity case with Ross.

DISCUSS THIS ON THE RAP IRELAND FORUM