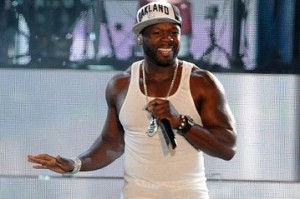 Things do not look good for Young Buck right now. Having filed for bankruptcy and attempting to sell his compositions and recordings to pay some of his debts, 50 Cent has brutally set his lawyers to work, claiming he in fact owns these rights, that Young Buck cannot sell them, and that Buck's own percentage of royalties, his only remaining income, should be sold instead.
Attorneys for 50 Cent are claiming their still-standing recording agreement with Young Buck, who signed in 2004, covers just about all of the artist's assets. As such, 50 Cent is calling on the judge to block the sale of any assets that he believes actually belong to him.
Young Buck, whose real name is David Darnell Brown, remains tied to G-Unit Records but hasn't recorded for the label for a few years because of a feud with Curtis Jackson (50 Cent's real name). Buck recently told BET he was open to a G-Unit reunion, but a bankruptcy-court dispute with the label could prevent that.
According to 50 Cent, his label owns 100% of all rights of recordings Young Buck did for G-Unit and has the exclusive right "to distribute, reproduce, and authorize adaptations and all performances in whatever form." Attorneys also say that this includes Young Buck's 2010 studio album, "The Rehab," and any recordings released since, even the songs released independently of G-Unit.
But that's not all, 50 says. Young Buck also granted G-Unit rights to use of his professional name, trademarks, portraits, logos and likeness, including "a perpetual and exclusive publicity right" to use his past or current recordings to promote records. G-Unit also says it alone can create and host Young Buck's official website. And an exclusive song-publishing agreement with Universal Music (which filed its own objection) and 50 Cent grants them the exclusive right to administer and publish Young Buck's songs.
"Thus, all compositions created by the debtor have already been irrevocably conveyed to Jackson (and Universal), and G-Unit retains irrevocable rights of 'every kind and nature,' including to rights to royalties, copyrights, to renew/extend copyrights and to causes of action," attorneys wrote.
But they did throw Young Buck a bone.
"To the extent that the debtor has a share in some of the royalties under the publishing agreement, presumably those assets could be sold," attorneys said.
Give him a break 50!