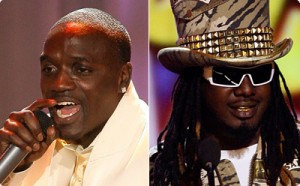 T-Pain, who has worked with Akon on numerous occasions under his Konvict label, has decided to move on to new pastures, and Akon is certainly not going to play Mr.Lonely.
According to Akon, there are no hard feelings between the pair, who collaborated on tracks such as 'Bartender' and 'I Can't Wait'. In an interview with VladTv, the Senegalese star, referred to T-Pain as his brother and wished him well on his move to the Young Money camp.
In reference to Pain's parting, Akon stated, "That's Pain's business decision. We've got one more album on Pain which is the one he is about to release now." Akon revealed that after that, his old Konvict cohort was a "free man".
Akon continued; "I'm happy for him, whichever way he goes, that's my little brother, he gets the support from us." The decision for T-Pain to join Lil Wayne's label should not come as a surprise to many of his fans considering the duo have crossed recording paths in the past under the tag, T-Wayne.They have released several singles in the last few years, including 'Got Money' and there will certainly be a lot of that where T-Pain is going.