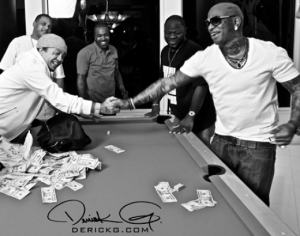 You've got to watch what you say on Twitter these days. After Birdman boasted earlier this week about being willing to put $5 million on the New England Patriots to win the Super Bowl, online sportsbook giant BetOnline.com have stepped into the fray and offered to take the Young Money rapper up on the wager, leaving Birdman in the sticky situation of having to front up or risk losing face to the ever increasing spotlight.
It all started earlier in the week, when Birdman took to Twitter to support his nephew who plays for the Pats.
"I like New ENGLaNd.my nephew play RB# 42.I'm Bet 5million 2 any ni**aaa.like tha Giants YMCMB.BabyMoney anybody kan Getit," he posted, asking for takers.
Through Twitter, BetOnline.com tried to get their offer through to the rapper, followed by a formal release that has circulated on the web.
"If Birdman is prepared to put his money where his mouth is, we are prepared to accept his $5 million wager on either the point spread or the money line of Super Bowl XLVI", said Sportsbook Brand Manager Dave Mason of BetOnline.com.
Just to give you an understanding of how the bet would work: Should Birdman bet on the Patriots point spread at -3.5 (-110), he will put down $5 million to win $4,545,454. If Birdman places a bet on the Pats straight up the money line at -160, he will lay $5 million to win $3,125,000.
With less than a week till the big game, the ball is firmly in Birdman's court.
RapIreland.com is your #1 source for celebrity news, gigs, exclusive videos and all the latest in the world of hip hop and R&B music.