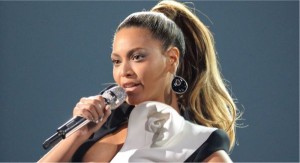 Around this time of year festival goers are usually informed of which headline acts are taking part in the Summer Festivals over in the UK. It has been confirmed this week that none other then Beyoncé Knowles is going to be the headlining act at the this years Glastonbury Festival, along with Coldplay and Irish rockers U2.
The "Crazy in Love" singer is due to perform a 90-minute set on the final night at the Pyramid Stage. Jigga's other half will become the first female artist ever to headline the festival, which celebrates its 41st year, and is expected to draw 200,000 people from June the 22th till 26th at the Worthy Farm, Pilton in SouthWest England.
It will be three years since Beyoncé was last at Glastonbury. Back in 2008 she watched from the side of the Pyramid stage as her husband Jay Z headlined the Saturday night slot and proved critics wrong who had claimed that Hip-hop was not a good choice for the Rock festival. He wowed thousands of lucky mucked up fans of the festival in one of the most talked about headline acts in all of the years at Glastonbury.
In a statement via her label, Columbia Records', the 29 year old posted "This really is the biggest festival in the world and I cannot wait to perform there. Everyone who attends is really appreciative of music and is in such a good mood that entire weekend," she continues "I'm pumped just thinking about that huge audience and soaking up their energy."
Beyoncé, or Sasha Fierce as she likes fans to know her when performing on stage, puts on one hell of a live show, going through hits that go back to the late 90's, such as "Bills Bills Bills", "Survivor", "Irreplaceable", "Single Ladies" and "If I Where a Boy". Some fans of the singer songwriter might not get the chance to see her perform at the outdoor festival, as tickets for this years event have already sold out. Will the lucky people who have tickets get to see any guest performers with the Queen of R&B? Rumours have started that Hova may just duet with his missus.
Jay Z, who stole the show and should of been one of the Headline acts at last year's Oxegen Festival, rocked a set that had a rained on crowd rapping most of his hits back to him word for word. With Oxegen confirming back in December that Black Eyed Peas will be taking part in this years event, which Hip-hop acts are you hoping to see at the festival that's due to take place the 8th, 9th, 10th of July in Punchestown Racecourse in County Kildare?
WORDS // BLAIN MOORE // RAP IRELAND