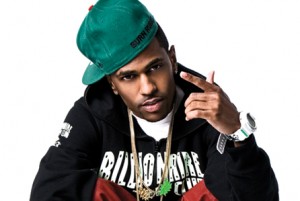 Friday night G.O.O.D. Music artist Big Sean was arrested in New York on a sexual abuse complaint following an Artpark concert. Big Sean and Willie "SayItAintTone" Hansbro were arrested by New York State Police and both released on $500 bail. On the night Sean was performing at a concert in Lewiston, New York.
According to Buffalo News the 23-year-old was charged with third-degree sexual abuse, forcible touching and second-degree unlawful imprisonment. Detective Sgt. Brian Nisbet said that a female victim issued a complaint that she had been sexually assaulted around 9:50 p.m.
A lawyer for Big Sean, Scott E. Leemon has issued a statement via Miss Info regarding the incident, explaining that both men "deny the allegations" and that he is confident they will be "vindicated".
"Last night, recording artists, Sean 'Big Sean' Anderson and Willie 'Sayitainttone' Hansbro were arrested and then immediately released by the NY State Police in connection with an allegation made by a female who was at their concert in Lewiston, New York. Both men were charged with misdemeanors and they both vehemently deny the allegations. I am confident, that after further investigation, both men will be vindicated."
Rap Ireland will bring you more on this story as it develops.