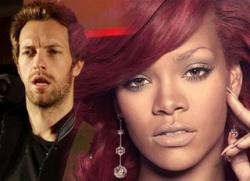 In a recent interview, English rock band Coldplay shed light on their new Album and told the world that none other then woman of the year Rihanna is set to feature on the upcoming project titled Mylo Xyloto, due out later this year.
"We had a song that I'd secretly kind of written to see if Rihanna would want to sing it," frontman Chris Martin said. "And then the rest of the band wanted to keep it, so we came up with the idea of asking her to sing it with us, and, to our great surprise, she said OK."
"Well, her bit on our record is my favorite bit … when the song came out, it sort of asked for her to be on it. And I think at this point, we have nothing to lose, and so we've been trying some new things and trying to break down the perceived boundaries between different types of music," Martin explained. "Because from where we're sitting, it seems like you can try and sound any way you like nowadays. You don't have to be in a rock box or a hip-hop box or a pop box, and I think it's fun when you embrace that idea."
Any fans of Ri Ri or Coldplay excited about this duet?