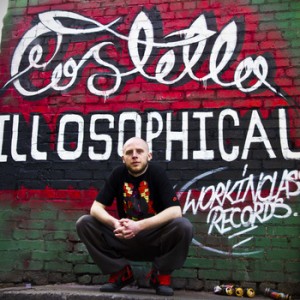 Following on from last year's Street Literature LP, Illosophical is the full length solo debut of talented Dublin emcee Costello.
Entirely produced by G.I and mixed and mastered by Jonnyboy, the 15 track album stands as another reminder of just how good Irish Hiphop can be.
Lead single 'Young Apprentice' has been making waves since it dropped back in December, and a second video for 'The Representatives' is expected before the album hits shelves on March 15th.
In the mean time, you can listen to the album in full below, and check out here for details on the Dublin launch night gig featuring Costello, Lethal Dialect, G.I and Willa Lee .
Illosophical by Costello is released on March 15th.
For more on Costello check out: Facebook / Working Class Records


*Album Stream*

Track Listing
1. Young Apprentice Featuring G.I
2. Realism Featuring Willa Lee
3. See The Signs Featuring Jambo
4. The Representatives Featuring G.I
5. Analysis Featuring Lethal Dialect
6. Do The Best I Can
7. Let Me Blaze It Featuring Willa Lee
8. Chess Game Featuring Lethal Dialect
9. The Devil's A Liar
10. Love Affair
11. Played Out Featuring 4Real & Jambo
12. Rhyme Architecture Featuring 4Real & Lethal Dialect
13. Where The Memories Stay Featuring Jambo
14. The World is Yours (Dublin Remix) Featuring Willa Lee
15. Illosophical Featuring Willa Lee