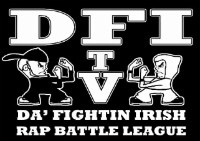 Da' Fighting Irish Rap Battle League made it's welcome return on February 9th with a huge day of battles and live sets at Dublin's Academy venue. There were five battles on the day, including two big international match ups, and the first ever beatbox battle in DFI history.
The organizers wasted no time getting the footage up online – each and every battle has surfaced already – so if you missed out on any of the uploads, you can catch up on them all in one place here.
There's also said to be a new DFI Cypher video in the works; scheduled to hit Youtube over the weekend, so keep an eye out for that to, but for now, here's the full video recap from DFI 10.
T-WRECKS vs BUBBA JAY (BEATBOX BATTLE)

BONY vs INNUENDO

ROB STEENSON vs PRO MOTIVE

ROW-B vs GAZMAN

NASH vs RAP-THOR