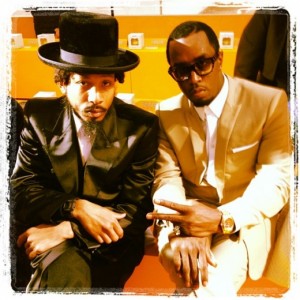 Well if you were shocked by the reunion of Rihanna and Chris Brown, then you should be even more so by the reunion of Diddy and Shyne. The pair have been estranged since the former Bad Boy rapper Shyne took the hit for the nightclub shooting involving Diddy and Jennifer Lopez, and has spent much of the intervening period behind bars. However, fans of the New York label will be happy to know Diddy and Shyne have officially made peace in a face-to-face meeting during Paris' Fashion Week.
This past January, Shyne revealed that he spoke to his former boss on the phone and agreed to meet with Diddy in Paris.
"As far as Puff is concerned, that's been a long time coming. He had reached out to me twice while I was in the pen, but I just wasn't ready for it. I felt how I felt, I said what I said. In retrospect, when you looked at the way he handled it, he held it down, he wore it," Shyne said of Diddy. "He ain't had nothing to say; always had good things to say. It was always, 'Yo, whatever Shyne need, we got him.'"
Earlier yesterday Diddy posted a photo of the two sitting side by side. Could Shyne be going back to Bad Boy?
Secure tickets to the Rap Ireland VIP Bash on March 24th below…