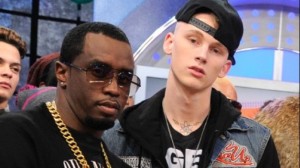 While an arrest is undoubtedly one of the principle tools in a rapper's promotional tool box these days,
Machine Gun Kelly
, or
MGK
, seems to be perfecting the art with an apparent 2 arrests in as many weeks. However,
Diddy
seems to be fully aware of the publicity machine and how an arrest can keep an artist in the spotlight and spurn on sales.
Speaking to MTV, MGK spoke of Diddy's reaction;
"I talked to Puff today, and he's like, 'It's all good. Do what you do. You did what you had to do,'" Kelly said. This followed a string of tongue-in-cheek tweets from Diddy that suggested he was off about the arrest.
"@machinegunkelly WtF!!!!!! Call me at miami crib now!!!!! Everyone hit him and tell him to call me NOW!!!!! Pls thanks!!!!," one read.
Kelly played down Diddy's criticisms, claiming that his label boss misunderstood last weekend's incident, for which he says it was a friend, and not him, who was arrested in a drunk driving accident.
"He thought I was in the car too, so he thought I got arrested twice. It was like the first arrest was cool, like, all right, he'll let it slide. But when he [thought it was two arrests], he was like, 'What the f***? You got arrested two times? Something is wrong with you, man,' " MGK explained, imitating his mentor. "He was, like, spazzing out. I think all the label is on edge about how we rock."
Kelly is due to tour the United States this summer, though information regarding a European Tour is not forthcoming at this time.
RapIreland.com is your #1 source for celebrity news, gigs, exclusive videos and all the latest in the world of hip hop and R&B music.