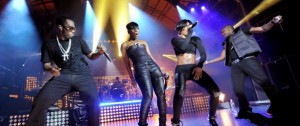 P Diddy currently  in london to promote his latest album "Last Train To Paris" is getting lessons from London's Skepta about the Grime scene in the U.K.
Aware of its huge influence in the UK's Urban scene Diddy is reportedly keen to immerse himself in what is an increasingly influential and rapidly expanding off-shoot of British Hip Hop and UK Garage.
Skepta has already worked with Diddy, after giving his 'Hello, Goodmorning' a Grime makeover, but now the British MC has been given the task of showing the US superstar the real UK grime scene.
The Tottenham-born MC has revealed that Diddy approached him, as he told BBC Newsbeat: "[Diddy] said, 'You know, I can go to Radio 1, I can go to all these different stations, these VIP places, but I want you to show me grime. [So] I'm gonna take him about London and show him what's poppin'."
And that it seems is exactly whats going down as Diddy has been spotted performing with Skepta himself and emerging talent Wretch 32 in certain underground venues around London.
Having taking almost a decade to establish itself and with a huge pool of young talented artists starting to enjoy success on both sides of the pond, not least Dizzee Rascals sweeping of all before him,  it would seem that it really is time for Grime.
WORDS // SEAN DOYLE // RAP IRELAND