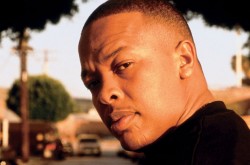 Dr.Dre has been a prominent presence in the rap world for quite some time now; twenty-seven years to be precise. As he is rolling down his third decade in the music industry he has decided the time has come to step out of the spotlight for a while.
The rapper revealed to FaderTv at the opening of his first Beats by Dre store in Soho, New York, that he would be taking a break from music in the near future:
"These are the next two artists I'm working on, Slim Da Mobster and Kendrick Lamar. I think that's when I'm gonna just wrap it up for a minute because I've been working on music for 27 years now and the longest I've ever been out of the studio in 27 years has been two weeks."
Dre revealed that a hiatus is imminent but it will never be permanent: "So yeah, I feel like I'm gonna take a little bit of a break. I'm never gonna stop music, it's like air to me."
With the rapper going cold turkey from the music world, his fans will be wondering when his long awaited (eleven years and counting) third album will be released. 'Detox' will probably be left on the shelf for the immediate future, whilst Dre undertakes one of his own!