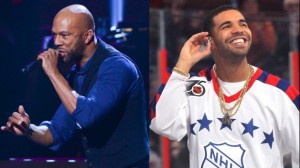 We spoke earlier today in an article about Machine Gun Kelly how the art of the arrest is one way to grab Hip-Hop publicity. Well here is another; start a beef. We thought Common would be above this kind of manoeuver, though in recent weeks and months we have seen the "conscious rapper" become increasingly provokative in his attempts to get a rise out of Drake. However, the Toronto based MC is standing resolute in his silence, claiming he is not willing to become a pawn in Common's promotional plan.
When asked if he would respond to Common, Drake replied;
"No. Because despite how it's been worded by him, that situation is not a 'hip hop moment' or a 'battle for the sake of musical integrity'. It's a ploy for attention around the release of an album," he said. "More than anything it was just disappointing cause what kid isn't a fan of what Common has done for our genre? A guy who made such an incredible career for himself based off expressing genuine feelings about life and love is now targeting me for sharing my story."
It seems Drake is just brushing off his shoulder at this stage and moving on. With a nationwide US tour featuring Kendrick Lamar and ASAP Rocky, combined with a sold out European tour, the Canadian rapper is in a strong place. Combine that with the fact that his sophomore album Take Care debuted at No.1 on the U.S Billboard chart with over 631,000 copies in the first week, you can see why Drake feels he has bigger fish to fry.
RapIreland.com is your #1 source for celebrity news, gigs, exclusive videos and all the latest in the world of hip hop and R&B music.