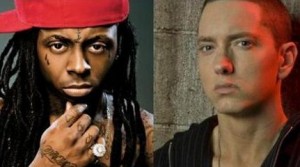 First Jay-z and Eminem hit up America with a two stadium show in both New York and Detroit. The renegade pair joined forces after their involvement with video game DJ Hero.
Soon after, Jay and Kanye released this years chartbusting "Watch The Throne" album, followed by a mega tour of their own.
Not one to be out-done, Slim Shady has recruited another A-Lister to tour with. Lil Wayne posted on his facebook account:
"headed to Fiji,Australia,then S. Africa…on tour with Slim Shady…a blessing…thx to those who supported C4! 2x platinum! Love y'all."
While this superstar team are sure to Drop the World on it's head with their performances, I can't help but wonder if they have No Love for us in Europe. Only time will tell!