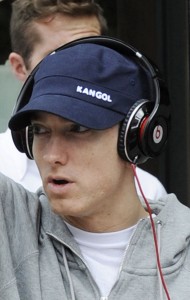 A middle school teacher over in America has been suspended for playing a Eminem video to her 7th grade class (10 – 11 Year olds). The teacher at Gibbons Middle School, Westboro Massachusetts showed Eminem's 'Superman' video to her class during a media analysis lesson.
The school superintendent Marianne F. O'Connor said on Monday she is interviewing students to determine what version was shown to the class as there are three different versions of the video. One of the parent's complained said his daughter told him she saw nudity and heard swearing.
"The Police Department is investigating, and the school administration has taken administrative action in regards to the teacher," Westborough Police Department Chief Alan Gordon said.
Sarah Jordan is the middle school teacher who showed her class the video and has no previous disciplinary history in her 10 years at the school she is also on paid leave pending the investigation.
The principal at the Gibbons Middle School John Foley said the teacher, "Made a bad choice. It doesn't sound criminal."