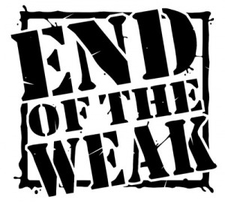 After an epic debut show back in April, End Of The Weak Ireland returns June 28th for a second round of the world famous EOW MC Challenge. This time the Twisted Pepper venue on Abbey Street will host proceedings, as four more emcees compete for a spot in the Irish finals.
Sammy Dozens emerged as a worthy winner last time out. Now, another intriguing line up has been put together for heat 2, with Mouse , Tomo , Spekulativ Fiktion and Rayo each vying for their place in the final four.
Following a stellar showing in heat one, Danny Scenery returns as host for the night with DJ Scorpio on the turntables. As always, the rappers will be judged over the unique five round EOW format consisting of Written Rhymes, Acappella, Freestyle, Beat Juggling and Cypha Skills; based on their lyrics, delivery, creativity, charisma and crowd response.
The MC Challenge will be supported by a full night of live performances from some of the country's top Hiphop talent. If you missed the first event, check out the videos below for a little sampler of what's in store for Thursday's show. You can also head over to the Facebook event page for full details and leave a comment there to avail of the concession rate.
End Of The Weak Ireland (Heat 2) takes place this Thursday June 28th at The Twisted Pepper.
Doors: 10.30 pm // Admission: 7 Euro (5 Euro concession)
Sammy Dozens Accapella Round (EOW Ireland Heat 1)

Siyo Freestyle Round (EOW Ireland Heat 1)