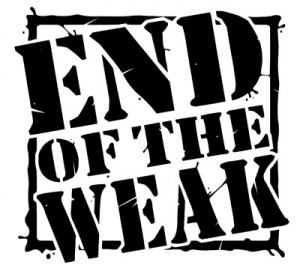 End Of The Weak, the international emcee competition is having it's official Irish launch this coming April 14th with performances by Caxton Press, Logic, Sons Phonetic & Lethal Dialect.
End Of The Weak was founded in 2000 as one of the few weekly platforms in NYC where hungry MCs could showcase and hone their talent. What started as a small Open Mic in the back of a restaurant has grown into the longest-running weekly hip-hop show in NYC and an International Hip-Hop movement. It spawned the world famous EOW MC Challenge which has spread worldwide as far as the UK, France, Germany, Uganda and more. It is now being launched in Ireland for the first time.
The actual MC Challenge event is being hosted by well known and renowned Irish emcee Rob Kelly and the DJ duties for the night will be held down by EOW UK's own DJ Snuff. In this, the first of four heats we have four well known emcee's from around the country taking part ;
Siyo – Dublin
K-Snatch(Rebel Faction) – Cork
D'lyrious – Dublin
Sammy Dozens(Sons Phonetic) – Waterford
How It's Done :
16 emcee's take part over 4 heats to decide the winner and will then go on to represent Ireland at the world finals in New York later this year. This is not a battle in the usual sense but more a test of all round skills from written song to freestyle, acapella and cypher skills. All contestants in the EOW MC Challenge have to be recording artists of a professional standard and the judging is carried out by other emcees.
End Of The Weak MC Challenge is a much more in depth and technical judge of an emcee's skills. Most emcee battles are judged on punchlines, jokes, crowd reactions, witty and personal put downs etc. and are not always a testament to their actual emcee skills. This is where the MC Challenge differs, this is a test to challenge the best of emcees, to really put an emcee through the grinder and see how he/she stands up to the test. Throughout the event a panel of judges awards points for lyrics, creativity, stage presence, delivery and crowd reaction. This is opposed to the traditional battle format where contestants compete head to head to make fun of each other. The End Of The Weak MC Challenge fosters artistic development and tests a greater range of skills.
In the MC Challenge, contestants compete in five rounds:
1st Round – Written Track
2nd Round – Acappella
3rd Round – Freestyle
4th Round – Beat Juggling
5th Round – Cypha Skills
Each round judges award from 1-10 points in each of the following skills:
Lyrics/Substance
Creativity/Originality
Stage Presence/Charisma
Projection/Delivery/Flow
Crowd Response
5 skills x3 judges x5 rounds x10 points = 750 perfect score.
Each Judge for the MC Challenge is a an established and respected emcee.
The Irish leg of End Of The Weak is being run by Ruairi Hartigan who is well known for his HIPHOP Is AWOL blog which you can check out here http://www.hiphopisawol.com/ and also for his label First Son Records you can check the Facebook page here https://www.facebook.com/firstsonhiphop?sk=wall&filter=2
The launch takes place on Saturday April 14th from 21.00 to 02.30 in Sweeneys Bar on Dame Street in Dublin and the entry fee is only 5euro.
You can join the Facebook group for End Of The Weak Ireland for updates here https://www.facebook.com/groups/155785997873814/
It's great to see an event of such calibre coming to Ireland, it can only propel the scene here even further especially with an Irish entry to go forward and compete in New York for the world finals. Also with such a great line up of performers for the official launch of EOW Ireland and a low entry fee, this will definitely be a guaranteed top night.
RapIreland.com is your #1 source for celebrity news, gigs, exclusive videos and all the latest in the world of hip hop and R&B music.