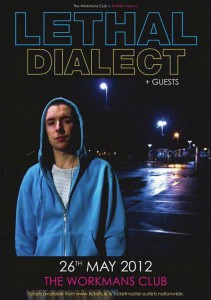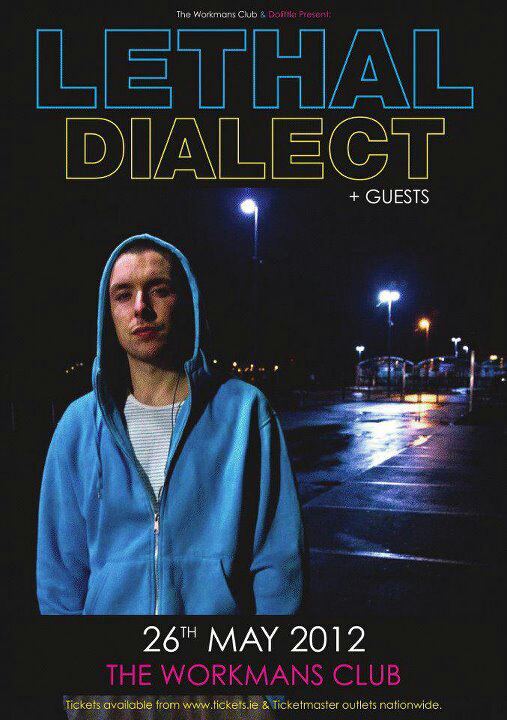 2012 has proved a busy year for Dublin emcee Lethal Dialect! Following on from the successful launch of his second album (LD50 Part 2) in March and a host of other impressive live performances including the recent Meteor Camden Crawl; Lethal Dialect takes to the stage once again for a headline gig this coming Saturday in The Workmans Club, Dublin.
On the night, Lethal Dialect will preview brand new tracks from his upcoming 'Magnum Opus' album, along with sets from the acclaimed releases 'LD50' & 'LD50 Part 2'. Support on the night comes from Dublin rapper Jambo, and 4 piece band Low Profile, who will both showcase sets from their new albums.
Be sure to grab tickets as this is one night of live hiphop not to be missed!!
Tickets for the show are available HERE or from Ticketmaster outlets Nationwide. In association with Mitchellangelo.com, anyone who pre-books tickets will be in with a chance of winning a unique pair of Adidas LD50's at the show.
Venue: The Workmans Club, 10 Wellington Quay, Dublin 2
Date: Saturday 26th May 2012
Ticket Price: 12 Euro
Doors open: 8pm
Over 18's- I.D essential.
Check out Lethal Dialects LD 50 & LD 50 Part 2 albums, which are available at Bandcamp for FREE download!