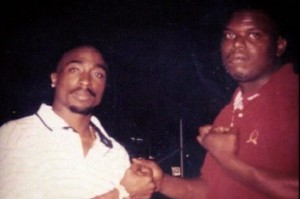 Details are emerging this afternoon confirming that former Death Row Records artist, Kevin "Flipside" White (seen here with the late Tupac Shakur) of the Watts group O.F.T.B. died last night (Monday September 23) as a victim of gun violence.
Famous for such tracks and compilations as Murder Was The Case, Above The Rim and Gridlock'd, O.F.T.B were based out of the Nickerson Gardens Projects in Watts, and signed to Death Row Records in the early 90′s.
While O.F.T.B. released their debut album Straight Up Watts on Big Beat Records in 1992 before signing with Suge Knight, their first album release on Death Row Records was not until 2011 when the new owners of the Death Row catalogue, WideAwake, decided to release the group's eerily ironically titled Damn Near Dead album.
Details about the shooting are still unknown at this time. RapIreland.com would like to send our condolences to the family and friends of Kevin White aka Flipside.