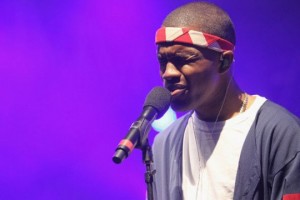 After the rumor mills ran rampant about Frank Ocean's sexuality on his forthcoming album Channel Orange, Frank Ocean has indeed confirmed that he is a bi-sexual man. This is increasingly surprising, given Ocean's involvement with OFWGKTA, a group often accused of homophobia.
After references of "he" instead of "she" on a few of his ballads on Channel Orange, rumors began to swirl that Frank Ocean was bi-sexual. The "Novacane" singer initially kept quiet on the matter, but decided to write his thoughts about his sexuality for everyone to read in black and white.
Apparently, the letter Frank penned was written in December 2011, as he prepared his forthcoming album Channel Orange. Preempting the homosexual speculation, Frank Ocean decided to pen an open letter discussing his first love with a man.  At the age of 19, Frank reminisces about the first time he'd ever fallen in love and how his first love was with a person of the same sex. The letter was initially supposed to be in the credits section of his official debut album, but after a UK blogger outed him, he decided to release the letter explaining his sexuality.
"4 Summers ago, I met somebody. I was 19 years old. He was too. We spent that Summer and the Summer after, together. Everyday almost. And on the days we were together, time would glide. Most of the day I'd see him, and his smile. I'd hear his conversation and his silence.. Until it was time to sleep. Sleep I would often share with him. By the time I realized I was in love, it was malignant."
Frank Ocean's debut album Channel Orange is set to drop July 17.