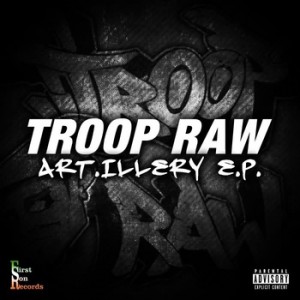 Time again for some raw underground Hiphop here at Rap Ireland! Art.Illery is the brand new E.P from Rhode Island native Troop Raw released on the excellent Wexford based label First Son Records.
One half of Boombox Saintz (with LordWillin'), Troop brings a classic Hiphop vibe to the E.P. The lead single "Comfort Zone" has already garnered the support of several notable American radio and mixtape DJs, including spots on The Bottomless Crates Radio Show and Thomas Handsome's Dumb Up Radio.
Art.Illery was initially intended to be Troop Raw's debut album for First Son Records, but some minor legal issues lead to his incarceration, thus halting the project before completion. What we are instead left with is an E.P of six absolute bangers.
We have the single featured as a free download below. The full E.P is available from Bandcamp priced at £4 – with all proceeds going to support Troop's family in his time away.
Check out First Son Records for more info.