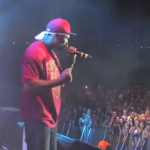 50 Cent and G-Unit took over the Waterford Music Fest last month when they headlined the one day festival that took place on July 30th.
Thanks to ThisIs50.com we get to see Lloyd Banks, Tony Yayo and DJ Whoo Kid messing about backstage with a magician and some Irish girls.
We also get  a brief look at Lloyd Banks performing "Beamer, Benz Or Bentley", Fifty doing "Okay Your Right" and his latest single "Outlaw".
Watch the official behind the scenes video of the 50 and G-Unit's time in Ireland below: