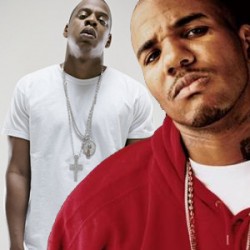 Game recently spoke to Power 106 FM's Big Boy as part of an upcoming web series. In the clip, Big Boy asks the Compton MC straight up what his problem with Jay-Z is all about, and actually gets to the root of Game's distaste for Hov.
For the past seven years Game has dropped the odd slur at Jay-Z, without the two ever actually going full on head to head. Most Recently Hurricane Game took shots at Jay on the diss track Uncle Otis. The subject has come up more frequent since the latest slew of jabs and Game recently said of when he first met Jay-Z ;
"I had it like that he was just a great dude. I grew up off of all Jay's albums, and when I finally met him and he was just, I don't know, he was overly cocky"
But in a clip from the upcoming web series The Next 48Hours with The Game, radio personality Big Boy asks the Blood Star about the root of these issues with Jay
"I met Jay-Z a long time ago in the 40/40 Club and he seemed like a cool dude and I asked him something—'How do you stay relevant?'—and I ain't really like his answer. So ever since then I just kinda take shots here and shot there"
Since this was already public knowledge, Big Boy pressed for more details asking what was said that the MC took so offensive. At first he tried to dodge the question saying that he would say it off air but then receded and wrote it on a piece of paper for Big Boy to read.
So the root of all the jabs from Game and his dislike of Jay-Z is all down to what Jay said to him on that first meeting seven years ago;
"Most of you new rappers won't last long anyway, maybe you should think of another lane."
If this is true then I think it is understandable the hot and cold reaction Game has toward the New York legend.
Games new album R.E.D. is out now.