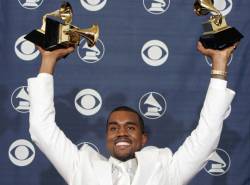 Its that time again, the Grammy nominations are in for the 2012 awards!
The nominees are here and are spread across 4 categories covering rap, including Best Rap Performance, Best Rap/Sung Collab, Best Rap Song, and Best Rap Album.
It hasn't been long since the award ceremony snubbed Hip-Hop artists, but thankfully they have changed their ways as of late. The first rap act to win the coveted award were Naughty By Nature back in 1995 when "Best Rap Album" first became a category.
But this category has since been panned by those involved in the hip hop scene as it meant rap albums could not be entered into the more prestigious "Best Album" category. Since then, 3 more rap categories have been acknowledged and added to the award list, making the ceremony one to watch.
And need I mention the many amazing rap performances over the years? Let's hope some of these amazing nominees take to the stage with a blow away show!
And the nominees are…
Best Rap Performance
Look At Me Now – Chris Brown
Otis – Jay-Z and Kanye West
The Show Goes On – Lupe Fiasco
Moment 4 Life – Nicki Minaj feat .Drake
Black and Yellow – Wiz Khalifa

Best Rap/Sung Collaboration
Party – Beyonce feat. Andre 3000
I'm On One – DJ Khaled, Drake, Rick Ross and Lil Wayne
I Need A Doctor – Dr. Dre, Eminem feat. Skylar Grey
What's My Name – Rihanna feat. Drake
Motivation – Kelly Rowland feat. Lil Wayne
All of The Lights – Kanye West, Rihanna, Kid Cudi and Fergie

Best Rap Song
All of The Lights – Kanye West, Rihanna, Kid Cudi and Fergie
Black and Yellow – Wiz Khalifa
I Need A Doctor – Dr. Dre, Eminem feat. Skylar Grey
Look At Me Now – Chris Brown, Lil Wayne and Busta Rhymes
Otis – Jay-z and Kanye West
The Show Goes On – Lupe Fiasco

Best Rap Album
Watch The Throne – Jay-Z and Kanye West
Tha Carter 4 (IV) – Lil Wayne
Lasers – Lupe Fiasco
Pink Friday – Nicki Minaj
My Beautiful Dark Twisted Fantasy – Kanye West