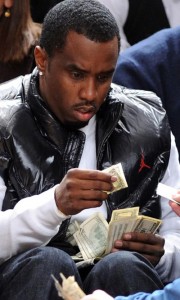 Forbes magazine recently released its Forbes 400 list which consists of America's most affluent citizens. Not one hip-hop mogul made the cut. As a result of this revelation, the opportunity has arisen for one of the hip-hop hierarchy to clutch the crown and become the rap world's first billionaire.
So who will it be? Jay and Fiddy have both been tipped for the throne, whilst Birdman has his own opinion on the matter. Forbes have revealed their own prediction in the form of Sean Puffy Combs a.k.a P.Diddy. Dirty Money's main man is well on his way to reaching his target mark with an estimated net worth of $500 million.
A large sum of Puffy's profits have come from non-music related ventures including his clothing brands Enyce and Sean John. Forbes also state that Diddy's deal with Diageo as an owner of French vodka Ciroc could see him increase his net worth even more.
Jay-Z's 40/40 club chain and his part ownership of the New Jersey (soon to be Brooklyn) Nets also upped his pay packet of late. In 2010, Jigga was crowned the hip-hop cash king for the third time in four years. Last year his income more than doubled that of Combs so the duo should be on even playing fields going into the home straight.
That is unless Birdman has something to do with it. The CEO of Cash Money Records, Brian "Birdman" Williams threw his and Lil Wayne's Young Money label into the rap revenue ring. The B-Man stated defiantly that the YMCMB machine is a force to reckoned with in the battle for billionaire status.
Birdman told Forbes: "I think Young Money Cash Money would be the first billion-dollar brand in hip-hop." He continued: "We strong and growing every day as a brand and fast. Within the next few years we will be billionaires."
The lucrative label will have their work cut out to rival both Diddy and Hov, but they certainly have the artillery to do it with Nicki Minaj and Drake already on their books. With the contenders accumulating cash dollars by the second the rap race is wide open. Glory most certainly awaits for whoever has their game-face in place.