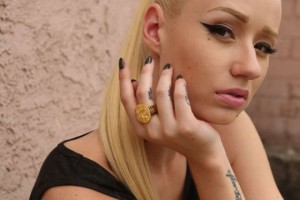 Iggy Azalea is officially no longer part of T.I's Grand Hustle label, the imprint responsible for much of the leg work in getting the Australian rapper the exposure and profile she has today. It was announced that Iggy has penned a deal with Island/Def Jam, a move she claims to be "elated" with.
However, as this story developed in recent hours, Iggy responded to the backlash by insisting she is still part of "Hustle Gang" and that "friendship doesn't need a contract".
Azalea was also announced last night as an artist at the Oxegen 2013 Festival. There has been much controversy in recent days over the lack of high profile acts and bands, with a focus more on dance and hip-hop, though this may be linked to the vastly reduced capacity at the event, down from 80,000 to 50,000. Other urban acts on the bill include Snoop Dogg, Pitbull, Wretch 32 and our own homebased Original Rudeboys.