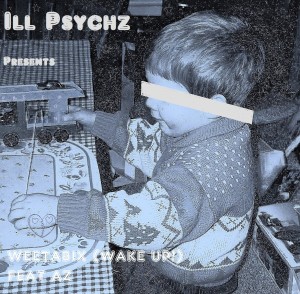 ill Psychz recently released a video to his latest track Weetabix(Wake Up) featuring Ayzee Surgeon.
Psychz, 23, hailing from Balinasloe in Galway is originally from Bristol but moved back to Ireland when he was twelve. He started writing lyrics at around fourteen and at sixteen formed a group with a friend; they dismembered when he was nineteen and he's been concentrating on his art since and released his first mixtape the self titled ill Psychz back in April of this year.
Ayzee Surgeon is also from Galway, he and ill Psychz have been mates for some time and have always planned on collaborating but just never got around to it until now.
The video was directed by Ovie Etsayatse, who, as always has delivered another great, professionally finished product with those rich colours and lighting that has become his trademark. The video is shot in Galway at the Spanish Arch and in the park, there are also a few shots near the end from the Lyricist Lounge where Psychz was showcasing in August last.
The track itself was produced by Galway's Ray Diamond of the band Riff Raff and starts with a nice lazy guitar riff with a chorus effect over it. The beats drop in with a nice guitar lick and a soft but ever present bassline. The sound and feel of this track is immediately evident with its laid back and Summery feel, add to it the flow of Psychz and you get a straight match as he eases his slow paced but snappy syllable couplets
Quiet kids scare nervous adults/ I'll leave these other dudes dead, no purpose or pulse./ Take the mind of the youth, like they're immersed in a cult/ Cuz I'm a blood hungry beast who's thirst engulfs-/ the nearest predator, nurse the results/ of a boy with no god on the perfect assault.
Psychz delivers the hook with the softly sang air and the subliminally messaged line sprinkled on top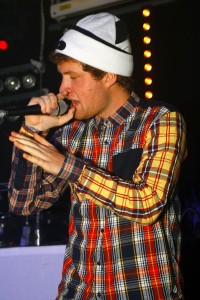 La La La
Wake Up!, wake up. Wake Up here's your Weetabix
He takes the track up a level for verse two as he drops knowledge and depth to his bars and utilising quicker syllable flow, adds more pace to the track
Knowledge in little dribbles can ripple though fickle minds/ Cripple the uncivil like a chisel to the spine./ No brittle bones theory, no religious design,/ let's put an end to that farce and let the physicists shine
Then for the final verse Surgeon puts his own mark to the track, sliding in with his own laid back on-beat rhyme.
Let me feed you kids some weetabix/ Life taught me so many evil tricks./ Now the demon lives inside of me./ I'm flammable like an oil refinery./ Bring a war to you and your dynasty
Overall this track comes together really well. ill Psychz's cleverly crafted syllable style, which gains pace in verse two and Surgeon's wind back of the flow for verse three, gives the smooth paced track the balance needed to make it so aesthetically pleasing to the ear. Psychz's subliminal main plot holds well on his verses as he ties it all in with the metaphorical hook, showing his intelligence in a well crafted track.
Next up for ill Psychz is his next project, Fitting In Is Overrated which will comprise of some remastered tracks from his first mixtape along with a slew of new tracks. He is also teaming up with Ovie again soon to record the video for a new track.