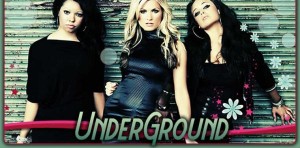 New opportunities await for Ireland's new girl band 'UnderGrounD'. The three piece girl group who officially formed in 2009 are described as a fusion of musical styles ranging from R&B to electro-pop. After scooping the award for 'Best New Girl-band' and a subsequent performance at the Irish Entertainment Awards in October; the girls are preparing for a Stateside trip to Miami where they will work with David Guetta's song writing team, the Far East Movement, and collaborate with popular Miami rapper Pitbull for their upcoming album. With a host of top radio interviews lined up for a trip to the Big Apple, the hard-working trio are also set to take to the stage across Miami for the 'Spring Break Tour' with "Stereo Love" creator Edward Maya, as well as performing at an Atlanta festival alongside stars such as Lil Wayne. Speaking exclusively to Rap Ireland, band member Andrea Nicole stated that the girls are most looking forward to having both the time and opportunity to completely pursue their dream "We are actually going to be able to focus on working on the one thing we want to be doing! Like every up and coming artist you don't have the luxury of not working your day jobs as no one else is going to pay your bills, so the fact that we have a time frame to solely focus on being in a studio and performing"
During her childhood years, founding member Andrea Nicole acquired an early taste for the stage during her ten year stint at a dance academy where she studied an array of styles ranging from ballet to hip-hop. During her teenage years, Andrea developed the art of song writing and recording through her involvement with hip-hop music. She spent several years performing within the Irish hip-hop scene; battling, rapping and singing with a variety of  emcees such as the Class A'z crew. Andrea also toured as a backing singer for American and UK hip-hop acts including Californian rapper Prozac Turner of 'Foreign Legion' and Dublin's ITF World Scratch Champion DJ Flip. "Anytime I was in studio with the guys-I was always eager to learn more and more about the craft. I would listen to so many styles and sounds, different flows and rhyming techniques- I wrote a lot of poetry to begin with before the transition into actual rhyming. There are little motifs of hiphop on some of the tracks we've put down with UnderGrounD and I am always looking for a way to incorporate it. I guess we hope to be able to shine some light back on a scene that has huge potential and I'll always try to spread the word further afield" Andrea tells Rap Ireland.
Daughter to an Ecuadorian father and an American Mother, band member Zoe Bohorequez spent her childhood participating in musicals and gospel choirs within her hometown of Arkansas (USA) before moving to Ireland in 2004. Upon settling here, Zoe rejuvinated her childhood passion for performing arts and became involved in several dance, drama and musical productions throughout the country. Following a summer spent in England's prestigious theatre program 'Lights Music Action'; Zoe participated within several talent shows, reaching the semi final of Louis Walshes auditions in search of a new girl band in 2008. A few weeks later a new opportunity arose when Zoe met Andrea; together they pursued the prospect for forming a girl group and set about in search of a third member.
Final member Shelley Smith came to the attention of the girls through her experience within the Irish music scene. No stranger to the public eye, Shelley has worked as a professional dancer and model for several years. After reaching the final 12 of Irish Pop Stars in 2002, she was signed to an Independent Record Label where she spent the following years writing, recording and co-producing tracks. Unfortunately, Shelley's dreams where cut short when she was diagnosed with an illness and forced to take a break from the music scene. Upon making a full recovery; Shelly returned to the her passion for music and dance before she was subsequently approached by the girls to complete the UnderGrounD line up.
The trio spent their spare time and late nights in the studio for dance, vocal and performance rehearsals; funding the band out of their own pockets by holding down 9-5 jobs to cover costs and pay rent. The girls sheer determination has seen them perform numerous of small local gigs as well as sharing the stage with international stars that include Tyga –from Lil Wayne's Young Money Label, Chris Brown, and Flo Rida in venues such the 02 and Odyssey Arenas. According to Andrea "We'd tell you we'd gig in the gutter(and have done!) so long as it paid the bills and we were getting to do what we love". One of the highlights for the girls thus far includes their acoustic set performance at 'The HotPress Music Show' in the RDS alongside acts such as Republic of Loose, Damien Dempsey, The Coronas and Sir Bob Geldof.
There is no doubt that UnderGrounD have worked extremely hard to pursue their dreams. With the right mix of talent,ambition and style- this is one girl group that can certainly take it from underground to the airwaves! Watch this space…
For more information check out UnderGrounD's Official Website