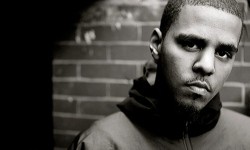 It really is turning into a Cole World! J. Cole has landed his first number one album after serveral delays and with little radio support, proving that once your favourite rapper has a strong fan base and relesases a solid album then a very strong first week is possible.
The Roc Nation rapper moved 217,000 units of his debut album Cole World: The Sideline Story in the album's first week  sales over in America alone. That gives Cole the highest-charting hip hop debut of the year.
The North Carolina MC assembles an all-star team of talent including Jay-Z, Missy Elliott, Drake, and Trey Songz on the 16 tracks. The rapper thanked his fans via Twitter.
"So many people to stunt on, fighting the urge to be spiteful This moment is too important for that. Just want to say THANK YOU," he said. "Thanks to yall, we shook the game up. No chart topping single, just 2 years of hard work, great music and real ass fans. #1 album.

"Thanks to every fan that held me down, every friend, every blog, magazine, tv, radio station, dj's and pd's," he continued. "I feel like we ALL won."