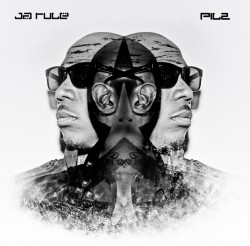 Words by Jay Boogie:
"Pain Is Love 2", the latest album by Ja Rule- set for release today (28.02.2012), is arguably his most personal and emotional album to date. Having risen to the greatest heights of hip-hop stardom, selling an excess of 30 million records worldwide and giving us hits like "Always On Time", "Holla, Holla", "Between Me and You", "Put It On Me" amongst many others, Ja Rule gives us a glimpse of his internal battles with fame – views of his own celebrity.
Letting fans see through his dark shades, he provides a clarity and perspective that allows listeners to connect fully – to identify with not only Ja Rule the artist, but Ja Rule the man."PIL2 is a passion project. It's a once in a lifetime opportunity to capture a moment of a unique and extremely important artist in arguably the most important moment of his career." said longtime collaborator and producer of PIL2 Seven Aurelius in a recent interview.
From the beginning of the album the bold statement is made literally and musically – "FUCK FAME" – the first track in the album featuring Leah Siegal. "I'm crying every one's tears," says Ja on this mood setting opening track, which leads to "Real Life Fantasy" featuring Anita Louise."I'm a rock star/Rick James Mick Jagger/Bright light big stages bad habits/Get high got to prison and evade taxes/This is not what I envisioned/when I started rapping," words that reach heightened level of intensity when you hear that notorious ground shaking voice coming out of the speakers – real – honest. Other tracks such as "Drown" and "Parachute" add strong threads to the fabric of this musical work – exhibiting yet again the reality of an icon that has stumbled, but reminding listeners of the heights he has fallen from – "Only the flyest niggas get to fall".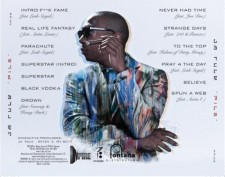 Without straying far from the center of what PIL2 is about, Ja Rule and producer Seven Aurelius managed to give us another peak at the rock star life that preceded the stage of reflection and challenge he subsequently found himself in, which was so masterfully presented throughout PIL2. "Black Vodka" is a lady-friendly track that can invoke images of when Ja took the clubs and airwaves by storm."Superstar" is a strong driving braggadocio club track that will make even "the guy on the wall" with a drink in his hand – that never dances – bounce involuntarily.
PIL2 in it's entirety is a pure unedited reflection of life by a human being who's experience include victory, defeat and rebirth. Seldom do we have the opportunity to have such intimate communication with an artist. That is in fact what it feels like – "communication", and not just one way storytelling.
With recent video releases for Hype Williams directed "Real Life Fantasy" – receiving millions of views on Worldstar HipHop in 24 hours, and the most recent exclusive release of "Believe" on AOL Music, fans are finally getting what they've been waiting for – after a number of disappointing push-backs.
Whether this is the beginning of the re-establishment of an artist that not only marked an era in hop-hop but established a sub-genre of sorts, or this is merely a wake-up call to an industry on the verge of experiencing a collective shift – remains to be seen. On 28.2.2012 fans will have the power to determine that.
Take a listen to snippets from the album.
Secure tickets to the Rap Ireland VIP Bash on March 24th below…