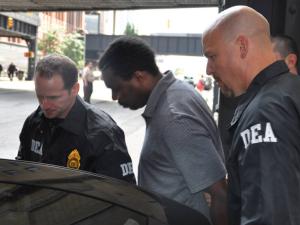 Jimmy "Henchman" Rosemond has been finally tracked down in New York City. The media mogul, who manages Akon and Brandy has been on the run from the police for the past month but according to The NY Post he was arrested yesterday by DEA agents in connection with heading a cocaine trafficking ring that from the east coast of America to the west.
The 46 year old has been reportedly charged with orchestrating the delivery of multiple kilos of cocaine from Los Angeles to the New York City area. The DEA probe was aided by two informants who were high-ranking members of Henchman's organization. Using his Czar Entertainment business as a cover, Jimmy shipped cocaine east of America and money back west disguising them as music equipment cargo. Federal agents found nearly $800,000 in one case inside a New York recording studio late last year.
Its been a week of revelations where Jimmy is concerned. Just last week, a man serving life in prison claimed that he shot and robbed Tupac in 1994. In a statement posted on AllHipHop.com, Dexter Isaac apologized for the infamous attack and claimed he shot Tupac at the direction of Rosemond. Isaac, said he was paid $2,500 by Jimmy for the attempted hit. Isaac is now serving time in prison for the murder of a Brooklyn taxi driver. Within hours of the statement, NYPD spokesman Paul Browne said, "NYPD detectives plan to interview the prisoner."
Jimmy's lawyer, Jeffrey Lichtman, criticized Isaac last week, calling him "a convicted killer who was brought back by the US attorney solely to cooperate against Jimmy Rosemond, and wouldn't you know it, he spins this tale."
Also last week The Smoking Gun reported that two men where charged with the murder of a G-Unit associate, Lowell Fletcher. The two men charged are reportedly tied to Jimmy. Its believed Lowell Fletcher's death in September 2009 was related to a previous attack of Jimmy's son by Fletcher and Tony Yayo.
In 2007, Fletcher struck Henchman's son in the head and went to prison for endangering the welfare of a child and an unrelated charge. G-Unit's Tony Yayo copped a plea to harassing Rosemond's son. The altercation took place because of G-Unit's feud with The Game, who was being managed by Rosemond's company, Czar Entertainment.
Two weeks after Fletcher was released from prison, he was shot and killed in the Bronx. Federal prosecutors have charged Rodney Johnson of "plotting with conspirators to orchestrate a homicide" in this case. Prosecutors allege that he paid Brian McCleod and others to kill Fletcher. According to documents obtained by The Smoking Gun, Johnson and McCleod caused the death of Lowell Fletcher.
DISCUSS THIS ON THE RAP IRELAND FORUM