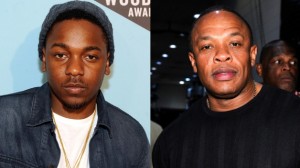 Kendrick Lamar
 and his mentor 
Dr. Dre
 had the grapevine alive with chatter yesterday as the just-released single "The Recipe" hit eardrums for the first time across the world, with the good doctor taking on some rare rapping duties.
Speaking on Big Boy's Power 106 radio show, Dre said the "Old title was 'Women, Weed & Weather; that's the three things you need in life. 'The Recipe' is when you mix it all up," Kendrick elaborated.
"The Recipe" shot to the top five of Twitter's worldwide trending topics shortly after its release. Strangely it was not Dre who was at the production desk however, rather LA's Scoop Deville did the honours.
"This track was done by a guy named Scoop Deville, and we just went into the studio and added our elements to it," Dre said. "I mixed it up. Kendrick wrote the words. It came together and we fell in love with it."
The song is the first single from Lamar's highly anticipated major label debut with Aftermath, Good Kid in a Mad City, due later this year.
RapIreland.com is your #1 source for celebrity news, gigs, exclusive videos and all the latest in the world of hip hop and R&B music.