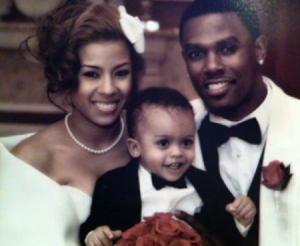 Keyshia Cole and professional basketballer Daniel 'Boobie' Gibson have tied the knot after two years together. Having become an item in 2009, Cole got engaged to the Cleveland Cavaliers star in January 2010. Around the same time the couple welcomed their first child, Daniel Gibson Junior who was born on March 2nd 2010.
The news of the nuptials comes a week after Cole was omitted from the nominees list for the Black Entertainment Television Awards. The private wedding ceremony took place on May 21st. Cole alluded to the forthcoming ceremony just days before stating on Twitter; "I'm ready to marry my baby, we all we got. #fambam."
After the marraige, Gibson also took to the social networking site to express his elation over the union, Gibson said of the nuptials; "It's OFFICIAL! #Done and #TrulyBlessed, Mr and Mrs Gibson, we appreciate all the well wishes."
The wedding should provide a welcome respite for Keyshia after the vocal throwdown between her and Lil Kim on Twitter just last week.
DISCUSS THIS ON THE RAP IRELAND FORUM