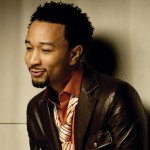 John Legend is being sued by a New Jersey singer-songwriter who is claiming the Star ripped off one of his tracks on his 2006 album "Once Again"
Anthony Stokes has filed a suit against John Legend, claiming that the Grammy-winner listened to his demo tape and modeled a song after one of his tracks. The suit, filed in New Jersey, claims that Legend watched Stokes give a performance at UNC in 2004. Following the show, Stokes gave Legend his demo tape with the promise that he would listen to it, but never heard back.
But in 2006, Stokes heard the song "Maxine's Interlude" off the album Once Again and realized that it ripped off his track "Where Are You Now?" Stokes is suing Legend for unspecified damages and is attempting to block Legend from selling the track.