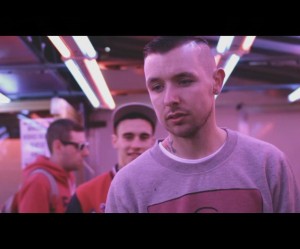 The first single from 1988 is in the books. The much speculated on third solo album from Lethal Dialect is set for a summertime release, but we've got a sneak preview of what's to come in the new video for "13 'Til Infinity".
It is the first new music from the Dublin emcee since "Lethal Dialect's Theme" back in September last. 13 'Til Infinity debuted on Dan Hegarty's 2FM show The Alternative last month, and the team behind it have moved quickly with the video release.
The song itself is a re-imagining of the Sun-Soaked track which leaked from the canceled Magnum Opus project. It was produced by Jackknife-J; who contributed a handful of beats to the first two albums in the LD50 series, as well as producing the entire Jambo solo debut Intervention, and is said to again feature heavily on 1988.
The highly polished visuals for this one were directed by Jonathan Lambert – the man responsible for the recent Rob Kelly video for "Jack The Ripper", as well as the Class A'z "Sin City". I'm sure we can expect plenty more from Lethal Dialect in the coming weeks and months as we continue the countdown to the album. Stay tuned!