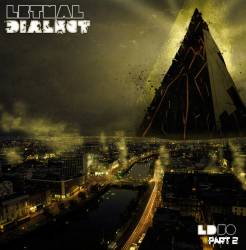 2012 is looking bright for Irish Hip Hop, and Blanchardstown emcee Lethal Dialect has raised the bar once again with the eagerly awaited release of his second album LD 50 Part 2.
Following on from the release of his highly-respected debut album LD 50 last year, the 23 year old has made waves in the Irish hiphop scene and media alike; with his track featured on RTE's critically acclaimed LOVE/HATE series, ongoing press coverage in Ireland's largest publications and a variety of appearances on National Broadcasts. Lethal Dialect also recently won MTV Iggy's Artist of the Week, in addition to an impressive performance at Whealan's One to Watch 2012 Showcase Festival.
Renowned for his compelling story-telling skills, poetic lyricism and relatable content, LD 50's second instalment is even more impressive than its predecessor. Continuing on with the winning formula from his debut album; the production on part II is also of the highest quality. Talented producer G.I takes the reigns once again, in addition to JonnyBoy (Ath Cliath Records), Mook (Sons Phonetic) and Belfast's Noize Thievery, with a range of hard-hitting beats that perfectly compliment Lethal's honest approach, concept-driven themes, intricate word-play and rhyme schemes.
LD also refrains from diluting the record by keeping the collaborations limited to a select group of emcees; with powerful features from Street Literature duo G.I and Costello, Tommy Hand, Sons Phonetic emcee Mouse, Ath Cliath rapper Jambo, and Ballymun singer Willa Lee. Fans of Lethal Dialect should also keep an eye out for his affiliate Costello's forthcoming solo album release Illosophical, due out soon.
Released last week, LD 50 Part 2 is available for purchase HERE on I-Tunes. Rightly receiving a 4/5 star review by Ireland's biggest music publication Hot Press, this is one hip-hop album certainly worth investing in!
Lethal Dialect will be supporting UK artist Ghostpoet in The Pavillion, Cork, on March 18th. Tickets can be purchased through Tickets.ie
LD has already released two tracks and accompanying video's, 'Keep It Real' and his latest visual 'Get To My Dreams' ft Willa Lee, available HERE for single purchase.
Check out both tracks and a preview of the album below:

Lethal Dialect- Keep It Real

Lethal Dialect- Get To My Dreams ft Willa Lee