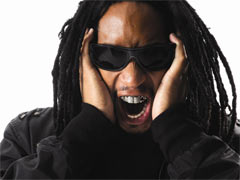 Talk about two of the most unlikely features on an album, but according to Billboard.com Rock veteran Meatloaf has recruited none other then the King of Krunk Lil Jon and Public Enemy's Chuck D for his new album.
The 70's rock star is planning a comeback with three new albums, one of which is "Hell In A Handbasket" that will feature the two rappers making guest appearances. Meat Loaf met Lil Jon when the pair appeared on Celebrity Apprentice together last year over in the US, while the connection with Public Enemy star Chuck D came through the singer's son-in-law, Scott Ian from the band Anthrax.
"[D] was going to do one thing, and he came back and did something else and we flipped out," he told Billboard.com.
In what will undoubtedly be one of the strangest collaborations in memory, Meat Loaf says this album is "the most personal record I've ever made. It's about how I feel the world's gone to hell in a handbasket."
Fans of Meat loaf can look out for the album when its due to drop in February 2012. Ha!