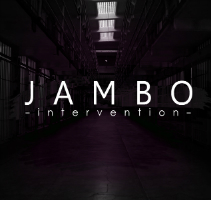 We've got welcome news to start the day, as one of the most sought after projects in Irish Hiphop has finally been given it's official release. Intervention, the debut solo album of Dublin scene standout Jambo, has dropped digitally through Bandcamp and is available now to buy or stream online.
This one was a long time in the making, undergoing several title changes and reworkings, and has been the subject of much speculation over the years in Irish Hiphop circles. A Jambo and Jonnyboy collaborative record 'Dawn till Dusk' came out late last year paving the way for the release, but little was known at the time regarding the status of a solo follow up.
Anticipation for the project again grew when the Donaghmede emcee began to introduce a selection of new tracks to his live sets. Then the release of a lead single 'The Human Condition' back in July seemed to indicate that the album was nearing completion. Now, the wait is finally over; 12 tracks produced entirely by JacKKnife-J (Jonnyboy), with guest appearances from Lethal Dialect, Costello, Willa Lee and a host of other Irish rap talent. Check it out in the player and enjoy!
Intervention by Jambo is available now to buy on Bandcamp