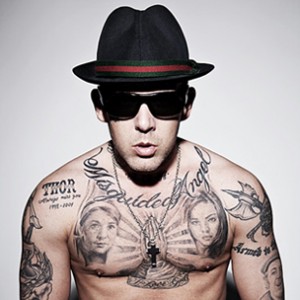 Irish Hip-Hop fans will be highly familiar with Boston rapper Slaine, who has worked with Rob Kelly in the past, most notably on the "Dropkick'd" project. Now Swollen Madchild of Swollen Members fame has revealed he has a new LP in the pipeline with Slaine.
Having earned a place on the recent Tech N9ne tour, off the back of his solo release "Dope Sick", Madchild has been taking major leaps forward already this year. Speaking in a recent interview, one of Vancouvers leading rappers spoke about the Slaine news.
According to Madchild, it all started when  Swollen Members and La Coka Nostra toured together. This was to prove a fateful introduction for the two, as since then both emcees have become close friends and have planned to record an album together.
"I had an immediate connection with Slaine when we went on tour with La Coka Nostra," he recalled. "La Coka is one of my favorite groups, and Ill Bill and Slaine are two of my favorite emcees, and Everlast is a legend – I know he's not in the group now, but still to me, Everlast is incredible. I'm doing an album with Slaine. We're gonna do an album together, and Slaine to me is like, I just love his flow, I just love his style. He's just such a character, even when you see him in the movies, that's like his real character almost that he's playing. He's so natural…it'll be an honor to work with him."
Rap Ireland will keep you updated as to when the album will hit shelves.