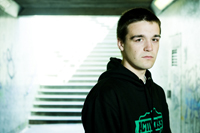 When it comes to Hiphop in this country, there is no doubt that Cork and Dublin have been leading the way, but several other cities have stepped their game up in a major way recently.
The folks at the Melted Music label have been doing their bit to push things forward in Belfast. Here we have Sketch Nine paying homage to his city on this SertOne produced banger.
Look out for Sketch's new EP 'The Expenses Of Living Free' dropping September 12th.
More info at MELTEDMUSIC.CO.UK.