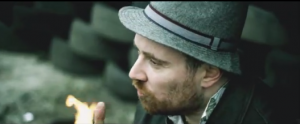 There has been considerable hype building around this video in recent weeks, and right on schedule Rob Kelly has dropped the visuals for Jack The Ripper in the aftermath of St Patrick's Day.
The video again raises the visual bar, moving away from the standard Hip-Hop video and rather going for a mini-movie concept, making use of a full cast of actors similar to what we saw in Kelly's "The Real Thing" release last year.
The list of collaborators in this project is extensive, so rather than go into details we'll just give you the video straight up. See how many cameos you can spot.