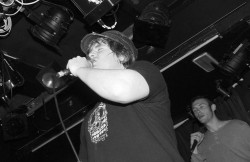 Dublin rap group A.W.O.L. have released their first single Never Go Back, from their upcoming album Off The A.W.O.L.
The group hails from Clondalkin and was formed about seven years ago. There were originally more members in the beginning, but as the guys learned and improved, they honed in on their sound, what worked best for them, and eventually the A.W.O.L. we now know was solidified.
A.W.O.L. stands for Another Way Of Life and consists of two members Row-B a.k.a. Mr. Maker and Rap-Thor. Row-B has been producing original beats since the age of fourteen and also used to play lead guitar in a rock band called Safe Destination. Rap-Thor is a lyricist at heart and has been perfecting his flow and style for a number of years, and is still learning and aspiring to improve and better himself.
The track was produced by Anton Gorbachev of Roof Records in Tallaght, and features Andy Duff on the hook. It starts with a nice 70s sound with some nice funky bass and guitar licks with soulful horns. Andy Duff breaks in the catchy hook with the introduction of the hard sounding, high energy kick drum, to set the pace of the record
I know they don't want to see me on the top coz they know that I'll never go back…..

But I've been through it all before, hit the floor, did you really think I'd leave it at that?
The track is an all out assault straight from the off, with its quick paced lyrics and hectic flow that doesn't let up for a second; reminiscent of a combo attack from Tyson in his heyday. Rap-Thor is in on the first verse making his position and direction known to anyone who might test:
There's nothing, no-one, stopping me from going higher than them buildings in Japan

at least the f**kin empire man…

Now maybe we can fly the flag, your past it f*g- retire man,

say we could never make it? Bite your tongue you fu****g liar man…And?
These guys work so well together and mix up the track with their verses whilst keeping the story linear and on point. The energy doesn't break for a second as Row-B doses his lyrical assault on his competition
I know I'll always have my critics though,

envious pr***s that hide behind the screens and claim they're getting physical…

Coz man your life must just be miserable,

you really think I give a S**t about you? What you're spouting in your syllables?
The one thing that holds through on this track is the high energy factor and forward assault. It feels like these guys have bided their time, sat back, waited till they got everything right, and then just let rip on the scene. If a track was a physical thing then this track would be a knockout blow.
A.W.O.L. are managed by Simon Furlong, with Alan Newman as assistant manager. They have collaborated with a variety of Irish rappers including The Animators, Mr. HighSpeed, and Shakey,  and have also just won the Lyrical Genius competition held by the people at Rappers Comp.
The track was also chosen by Dave Treacy for his Mic Check, a weekly feature on his RTE Pulse show We Love Beats. A.W.O.L. are working on the album Off The A.W.O.L. and will be recording a video for this track soon. There will be plenty more from these guys so stay tuned.
Never go back by Row-B (Mr Maker)