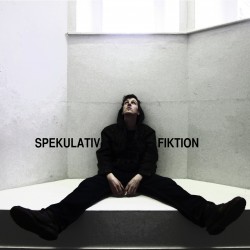 Cork natives Spekulativ Fiction and K-Snatch have joined forces and have just released their first track together, My Habitat.
Spekulativ Fiction is from Passage West and is a dedicated emcee and beatmaker; he released his first EP last year Living Proof That The Pen Is Mightier Than The Sword to great acclaim. K-Snatch hails from Ballypheane and is a well known emcee for his battling in DFI and is also a member of the Cork group 'Rebel Faction'.
The guys have teamed up to work together and release a joint effort, the Ritual EP, over the next few months. This is the first release from that upcoming project.
The track was produced by Spekulativ Fiction and starts with a raw sounding guitar sample chopped and looped which forms the basis of the track. The intro is fed well as some rhythmic toms build it until the main beat enters and Spek drops in first with his verse. Obviously well comfortable on his flow and with the beat, he delivers a good liquid verse with some nice couplets ;
fuck gimmicks

Im leaving you flat on your ass like a slab of guinness,

slap you cross' the face with it

then proceed to drink it till the whole thing is finished

its witchcraft, my crafty ways are wicked
The drums on this track go very well over the sample and are used well as they switch up and drop in and out to change up the track and emphasise certain parts. Spekulativ is certainly aware of how to work the beat off the vocal.
The chorus comes next which is split between the two emcees. K-Snatch is on the first part where he drops a great two bar section ;
Snatch and Spek stay raw spitting classic raps,

we breath that holy type of high, we're wafting in the back of mass
The last verse is K-Snatch's and with no let up, the flow stays constant keeping the tempo as he ebbs back n forth over the catchy beat dropping his own flavour in his lyrics such as ;
Snatch is dope

keeping it underground like catacombs.

On a Spek beat

dirtier than tattered robes.

Not your average bloke,

session in the nude and

my saliva's poisonous,

I breastfed off Medusa
This is the first release from the duo, coming off the future EP Ritual and if the rest of the tracks are anything like this, it will prove to be a smash. The guys will be releasing a video for the track soon. In the meantime they are going to be doing some live shows incorporating live drumming, scratching and noise artists. Stay posted for more from these guys repping for Cork.
My Habitat w/K-Snatch by Spekulativ Fiktion