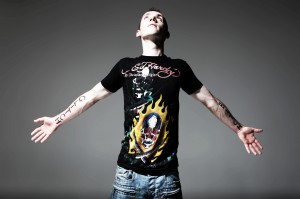 Blanchardstown rapper Adam Swords has just released a new track called Glitch Bitch after a two year hiatus from the game.
Back in 2002, Swords hooked up with Richie Lewis a.k.a. Mr. HighSpeed and emcee/producer Gemsmiff to form the rap group The Elements. Over the years, the group added and changed members, and after nearly seven years of working on HipHop, Swords took a two year break before returning to the music scene.
Ater being introduced to an electronic based band, called Retrosdead, Swords and the group decided to work on some tracks together; one of these tracks being Glitch Bitch.
The track itself starts with a rough, edgy sawtooth intro with a distorted vocal, before the live drums and main uplifting riff break into the track with a burst of energy. The resonating live snare hit holds the high energy throughout this monster electronic pushed track. Straight from the off on this track, Swords makes his reappearance in the music scene known as he stomps on the first verse;
DISCUSS THIS IN THE RAP IRELAND FORUMS
The man amongst the manikins

The owner, the custodian

Witness how he rise again. Sweeps dust from the scripture

Your subconscious when you try think

Not a figment, he's an imprint

No longer does he withdraw, he's the past and the future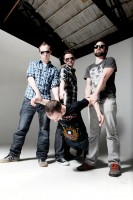 The high octane production on this track builds and breaks with stabby synths and edgy vocals to match. The track never lets up and the combination of the lyrics and the music are timed and crafted to push the underlining message of the track….that Swords is back!
"He's the source of the swarm, the spark that lit the fire, now of course it's warm. Taking it to a higher level"
Released under Swords vs Retrosdead, the combo have also completed another track Black Gold which is another power force of electronic pushed HipHop.
Swords is currently working on a new album from The Elements with Mr. HighSpeed, Gemsmiff, Prominince and DJ Needlz, as well as plenty of new upcoming solo material. Rap Ireland will keep you posted on future releases.
Check out the track below:
Glitch Bitch (The Reason) final mix by Swords