(Words: Karen & Blain)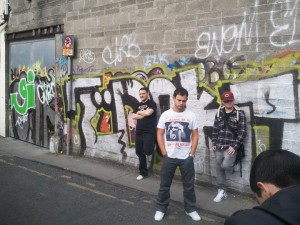 Tallaght rapper Nucentz is back with a brand new video for his latest track 'Makes You a Star'. With cuts from top Irish Hip-Hop DJ MO-K, the song also features vocals from talented Drogheda songstress Gabriella Marsella.
Gabriella previously collaborated with Nucentz on 'Had Enough', the competition winning track that will soon feature rap star Lupe Fiasco. Directed by Jonathan Lambert, this high quality clip shows the progress that is currently being made across the board in Irish Hip Hop.
The rappers Class A'z counterparts Terawrizt, DFI front-man Redzer, and renowned hiphop DJ's Frank Jez, Mo-K, and DJ Mayhem make appearances in the video that was shot on location at popular Dublin spot 'The Village Venue'.
'Makes You a Star' has a positive vibe to the track and uses the same sample in Jay-Z's 1996 classic 'Dead President II'. Fans of the 24-year old rapper can soon expect a free to download mixtape with a collection of his best verses from the last few years, mixed & hosted by DJ MO-K.
While speaking to Rap Ireland about the new video, Nucentz stated that he loved working with Jonathan & Gabriella and cannot wait to team up with them again for the 'Had Enough' video- which will take a more humourous approach. Watch this space…
DISCUSS NUCENTZ' NEW VIDEO ON THE RAP IRELAND FORUM